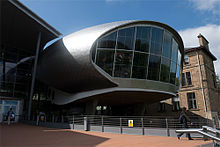 Edinburgh Napier University is a public university in Edinburgh, Scotland. Napier Technical College, the predecessor of the university was founded in 1964, taking its name from 16th-century Scottish mathematician and philosopher John Napier. The technical college was inaugurated as a University in 1992 by Lord Douglas-Hamilton, becoming Napier University. In 2009 the University was renamed Edinburgh Napier University.
The university is based around its three main Edinburgh campuses: Merchiston, Craiglockhart and Sighthill. It has over 19,500 students, including those on-campus in Scotland and others studying on transnational programmes abroad and online. In 2018 this included nearly 9,500 international and EU students, from more than 140 nations worldwide.
Accommodation
Edinburgh Napier currently houses 1,500 students over 4 sites in and around the city centre. Its accommodation is affordable, modern and supported by a dedicated team of University staff.
Why you must choose
In the 2019 QS Stars rankings, the quality of the University's teaching, internationalisation and employability were all officially recognised, with the University scoring five stars in each category and four stars overall.
The University is in the top 5% of universities worldwide (THE World University Rankings 2019).
In 2015, the University was awarded the Queen's Anniversary Prize for its internationally acclaimed work in timber engineering, sustainable construction and wood science. This is the most prestigious award for the UK higher education sector for the impact of research on business, industry, environment and society – nationally and internationally. This was the second triumph for its School of Engineering & the Built Environment following a previous success in 2009.
More than half of the University's research was rated either "world-leading" or "internationally excellent" in the 2014 Research Excellence Framework (REF).
The University has supported more than 500 student start-up companies and a 2014 report by Biggar Economics named the University the most successful university in Scotland for graduate enterprise and start-ups.
Programs by area of interest
Arts & Humanities
Business & Social Sciences
Language & Cultural
Medicine & Health
Engineering
Science & Technology