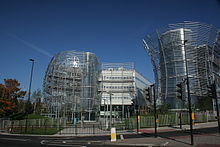 Northumbria University is an open university which was formally opened in 1894. The university is associated with the Wallace Group and it gained the university status in 1992. The university focuses on research and business areas. It is in partnership with some well-known organizations like BALTIC Centre for Contemporary Art, International Centre for Life and BINUS Design School. The university is considered among the top ten universities in the United Kingdom. Earlier, it was known as the University of Northumbria at New Castle.
The university comprises two campuses, namely the City Campus and the Coach Lane Campus. The City Campus houses the School of Law, School of Design and the School of Business. This campus is divided into two areas, namely City Campus East and City Campus West. The infrastructure of the eastside campus was designed by the famous architect, Atkins. The westside campus is home to the School of Built & Natural Environment, School of Arts & Social Sciences, School of Computing, School of Engineering & Information Sciences and the School of Life Sciences.
Accommodation
Northumbria University guarantee accommodation for all first year students once an offer has been accepted. Over 5,000 rooms are available either self-catered or catered and all accommodation is a few minutes' walk from main buildings or direct public transport to get you there.
Accommodation Services staff are on hand all year to offer information and advice about all aspects of student accommodation and advise on such things as landlord/tenant problems if renting privately.
Application Process
UG applications- Apply through the Universities and Colleges Admission (UCAS).
PG applications- Apply through University's online application system
UG Courses: January 15th, for Medicine –October 15th
PG Courses: Varies as per programs
General requirements: Official academic transcripts, official degree completion certificate, Letter of Recommendations
Additional requirements: Birth certificate, passport copy, personal statement, essay, and research proposal (for research programs).
English Proficiency Test