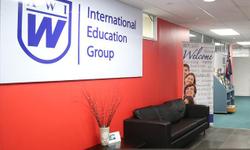 Study in New Zealand at AWI International Education Group AWI International Education Group is a private tertiary establishment approved by the NZQA. AWI offers English, Business and Computing/IT courses. Established in 2000, AWI is an excellent educational provider (category 2) with more than 14 years' experience in the New Zealand education sector. Students come from a wide variety of countries, including China, Brazil, Pakistan, India, the Philippines, Thailand, Korea and Russia. AWI's teachers are experienced and approachable educators, and current students know them to supportive and understanding. AWI's institute is located in central Auckland. Campus facilities include a computer suite and workshop, classrooms, student study areas, common rooms, a kitchen and a library. We offer guidance and support in all the areas you need: visa help, airport pick-up, orientation, accommodation, job support, etc.
Why AWI New Zealand Education Group?
Multiple programs: AWI NZ Education Group is currently offeringprogrammes in English, Business, Computing and Information Technology Technical Support at numerousstages up to the undergraduate level.
Student services: Students are encouraged to feel free to access thefree internet throughout the campus. There are facilities of student common area, student 'quiet' space and student cafeteria for the students outside of their classroom to unwind their minds and relax.
Other facilities: AWI New Zealand Education group is a dedicated Pastoral Care Team that are available on call 2- hours, 7 days a week to assist and aid students settle downfaster into school life in New Zealand (Aotearoa). AWI realises the tasks and complicationsthat the studentmight face as the international students and the AWI team works in close proximity thereby setting up strong peer and buddy support systems. The team also encouragesthe students to utilise theWi-fi and interact with their families as often as they can.