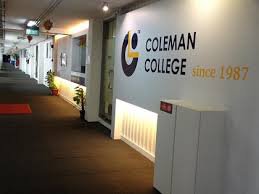 Coleman College was established in 1987 and has been in operation for 29 years. Coleman College are registered with the Committee for Private Education (CPE), Singapore. Over the past 29 years, Coleman College has expanded its scope of operations to offer a wide range of education and training services to meet the needs of its students. To date, Coleman has graduated over 30,000 students from over 20 countries world-wide.
Today, Coleman College is one of the more established private schools providing quality education services through both its High School and its Higher Education Departments. These departments have work closely with accreditation boards and professional associations such as Cambridge International Examinations (CIE), Edexcel, City & Guilds and Institute of Financial Accountants (IFA). The College also works with other colleges and universities, including Blackburn College (UK), United States Sports Academy (USA), University of South Australia (Australia), University of Southern Queensland (Australia) and the College of Humanities and Sciences of Northeast Normal University (China), creating pathways and articulation for its students to achieve university and professional qualifications.
Coleman college is located at Bukit Merah (Red Hill), a popular location with easy access from all directions and offering an abundance of amenities and facilities and surrounded by lush greenery, Coleman College is a college that is truly conducive for learning. There are a total of 14 fully-facilitated and connected training rooms, which includes a fully-equipped Science Laboratory for our students to conduct experiments, as this is essential for students who are taking science subjects.
Facilities and Amenities:
Resource library
Beverage machines
Wireless Internet connection
Health promotion programmes
Financial assistance scheme
Programs and Courses offered
Hospitality Management
International Hospitality Management
International Tourism Management
Sport & Exercise Science
Global Logistics Management
Pearson BTEC Level 5 HND Diploma in Business
Pearson BTEC Level 3 Diploma in Business
English for Foreigners – Basic
Advanced Diploma in Tourism and Hospitality Management
International Food and Beverage Operations.
Global Logistics Management
Sport & Exercise Science