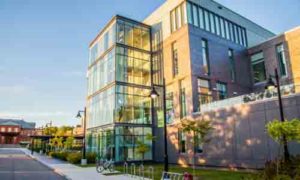 The Humber Institute of Technology and Advanced Learning, famously known as Humber College, was established in the year 1967. Humber comes over as a publicly-funded college in Toronto, Ontario, Canada and within a span of just a few years, it has made its place amongst the top most colleges across the country. Humber currently has three main campuses i.e, Humber North campus, Lakeshore campus, and Humber Orangeville campus.
The College offers more than 150  programs that includes bachelor's degree, post-graduate certificate and apprenticeship programs that are available through  40 study streams. Beside all these courses, the college has also introduced a Bridge Training programs in order to create more globally trained professionals in the areas of engineering and information technology. It must be mentioned that this college is also the first Ontario College to be accredited with a  Silver Rating for Sustainability Tracking Assessment Rating System.
The North Campus of the institution is located nearby to the Humber river and accommodates more than 20,000 full-time and 57,000 part-time students from across the globe. Speaking of the campus, it offers both full-time and part-time programs in a variety of areas including Health Sciences, Media Studies, Liberal Arts, Applied Technology, Business along with Hospitality and Tourism. The Lakeshore campus of Humber College, based aside the Lake Ontario's shores, further houses more than 7,200 full-time learners. On the other side, the Orangeville campus of the institution accommodates around 6 wireless classrooms, an on-site fitness center with a swimming pool, a computer lab, a food court, two hockey rinks, a library, and a restaurant. For all those students that are looking to chase their careers in the fashion and beauty industry, The Fashion Institute of the Humber College serves quite perfectly. Talking of other campuses of the Humber College, they also ensure offering the same quality of facilities and services to their students.
Programs and courses offered
Graduate Certificate in Global Business Management
Graduate Certificate in Human Resource Management
Diploma in Computer Programmer
Diploma in Biotechnology
Hospitality and Tourism Management, Bachelor of Commerce
Graduate Certificate in Supply Chain Management
Graduate Certificate in Information Technology Solutions
Bachelor of Nursing
Advanced Diploma in Business Administration
Diploma in Mechanical Engineering Technician
Graduate Certificate in Marketing Management
Graduate Certificate in Web Development
Graduate Certificate in Financial Planning
Graduate Certificate in Enterprise Software Development
Graduate Certificate in Wireless Telecommunications
Advanced Diploma in Computer Engineering Technology
Advance Diploma in Civil Engineering Technology
Bachelor of Interior Design
Bachelor of Creative Advertising
Advance Diploma in Business Administration-Accounting
Bachelor of Industrial Design
Accounting, Bachelor of Commerce
Bachelor of Journalism
Advanced Diploma in Animation – 3D
Finance, Bachelor of Commerce
International Business, Bachelor of Commerce
Advanced Diploma in Architectural Technology
Supply Chain Management, Bachelor of Commerce
Human Resources Management, Bachelor of Commerce
Bachelor of Film and Media Production
Bachelor of International Development
Fashion Management, Bachelor of Commerce
Management Studies, Bachelor of Commerce
Bachelor of Digital Communications
Bachelor of Public Relations
Digital Business Management, Bachelor of Commerce