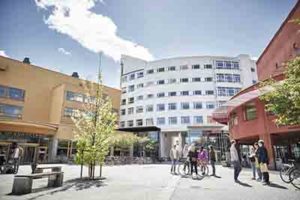 Jonkoping University is a young professional-oriented university characterised by a high degree of internationalization, an entrepreneurial spirit and extensive collaboration with surrounding society. It is one of three Swedish private, non-profit institutions of higher education with the right to award doctorates.
Jönköping University has around 12,000 students, of which 2,400 are international students. The university is one of the top universities in international student exchange and among the best in Sweden in terms of attracting international students. The campus has a truly international and academic environment with students and staff from all parts of the world.
Why Jönköping University is the best choice for you:
International Environment
Jönköping University is one of Sweden's leading universities in the area of internationalisation and has an extensive exchange programme with approximately 350 partner universities worldwide. The campus has a truly international environment with students from over 70 countries. You'll graduate with an internationally-recognized degree and hands-on experience needed for a successful global career.
Did you know that Sweden is the birthplace of many world-shaping companies like IKEA, H&M, Volvo, Skype, TetraPak, Husqvarna, AstraZeneca and Ericsson? Why not kick-start a global career by studying in Sweden at Jönköping University!
Practical Work Experience
The university uses the business world as a platform for education- and many programmes incorporate practical elements (e.g. internships, company visits, guest lectures, case studies, etc.) for students to gain real world experience and create a network.
Highly ranked and accredited business school
In 2015, Jonkoping International Business School (JIBS), became the first business school in Sweden to receive both EQUIS and AACSB accreditations. Read more about JIBS' education and research rankings and accreditations.
Almost all Swedes speak English well and many Swedish companies use English as their official business language. At Jönköping University, many programs are designed and taught in English- for both Swedish and international students.
Sweden is clean and safe, and the standard of living is high. Sweden is listed as one of the most livable countries in the world according to UN Human Development Index.
Jönköping is a student city with great student life. In Jönköping you will find most things around the corner: the long beaches of Lake Vättern; beautiful nature; leisure and sports facilities; the city centre with shops, cafés and restaurants; and a wide variety of culture venues.