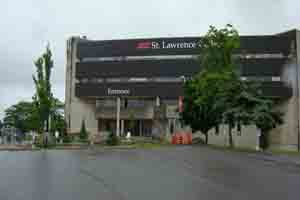 St. Lawrence College was been established in the year 1967 and was initially been deemed as a  college of Applied Arts and Technology. If we speak of the number of courses offered by the colleges, the number is quite huge with courses like business administration, engineering, and technology, electronics, home economics included in the list
The college was established by William Davis who is quite famous as the "father of Ontario College" coming with a motive of guiding and educating people for all kinds of employment purposes within their own respective communities. Hence, the colleges always worked with a common focus on Applied Arts and Technology. All the overseas and local students have been offered with all types of professional and occupational courses and certificate programs which even whilst coming with short terms, guarantees employment to most of them within their respective fields.
Advantages of St. Lawrence College:
Rated #1 in terms of Graduate Employment Rate.
Provide campus placements to all our students and hence PR options become easy under NOC O, A and B categories.
Students get the starting salaries from $25000 onwards.
Most of the programs have the salaries around $40000 – $45000. The same programs you can do in other colleges of Greater Toronto.
English only environment helps students to improve their language skills and integrate to Canadian Culture quickly.
Have lower cost for living expenses than larger cities.
Provide great student life because it is an education city. You get a safe environment unlike bigger cities.
Got a good night life too. Have lot of pubs and theaters to enjoy.
It is located in the Downtown. Have almost over 300 students overall per intake. The best part about this center is that student need to attend classes only 2½ days a week.
Application Fees:
The Application fee is $ 100, which can be paid either Credit Card or Telegraphic
Intake:
JANUARY and SEPTEMBER
Accommodation:
Student Residency: $5700 (Double Occupancy)(excluding Meal) $6520 (Single Occupancy) (excluding Meal)
1 year commitment (Rent) $750 Meal Plan per Semester
Home Stay: $810 (1 Semester commitment) including 3 meals, 2 Internet, Laundry
Shared Apartment: $450 per month