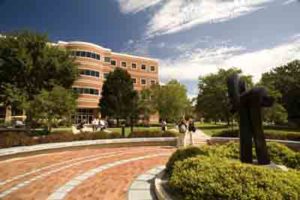 Wichita State University (WSU) is a private institution for higher education and research in Wichita city of Kansas, U.S. Founded as a private Congregational preparatory school in 1986, the institution went through numerous structural and name changes over the years. It was awarded the university status in 1926 under the name Municipal University of Wichita. It was in the year 1964 that the university adopted its current name. WSU has affiliation from the Kansas Board of Regents. The institution has sporting affiliation from the National Collegiate Athletic Association (NCAA).
The university has a beautiful 330-acre campus. With five different locations, the main campus is situated in North Fairmount on a hilltop overlooking downtown Wichita. It features administrative offices, academic buildings, recreational spaces, athletic facilities and student residences. The Rhatigan Student Center in the middle of the campus houses a bank, bowling, billiards, restaurants and other amenities. Constructed in 2011, the Advanced Education in General Dentistry building housing several classrooms and a dental clinic form the second campus of the university. WSU's third campus, the Downtown Center is home to the physical therapy department and the Center for Community Support and Research. The university hosts classes at two other satellite campuses in Maize and Derby.
Programs and Courses Offered
Undergraduate- Accountancy, Aerospace Engineering, Athletic Training, Computer Science, Engineering Management, Forensics, Graphic Design, Industrial Engineering, Business, Management, Music, Sport Management, Theatre and many more.
Graduate- Exercise Science, Audiology, Biomedical Engineering, Chemistry, Computer Networking, Mathematics, Engineering (Mechanical, Industrial and Aerospace), Music, Nursing, Physical Therapy, Physician Assistant.
REQUIREMENTS
BACHELORS
Minimum GPA 2.5 (on a 4.0 scale)
TOEFL – 72 / IELTS – 6.0 /PTE 49
MASTERS
Minimum GPA – 2.75 (on a 4.0 scale)
TOEFL (79) / IELTS (6.5) / PTE 58
MBA & Public Administration : TOEFL (88) / IELTS (7.0) / PTE (65)
GRE & GMAT required for specific programs