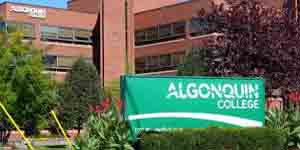 Algonquin College of Applied Arts and Technology comes over as a publicly funded English-language college with its location in Ottawa, Ontario, Canada. The college attracts most of the students from the National Capital Region and the surrounding areas of Eastern Ontario, Western Quebec, and Upstate New York. While being publicly funded, you can certainly expect a number of scholarships and grants after getting graduated with some good numbers here.
Speaking of the campuses,  it comes over with three major campuses; the primary campus based in  Ottawa, Ontario, and secondary campuses based in Perth, Ontario, and Pembroke, Ontario. Looking at the courses, the college offers bachelor's degrees, diplomas, and college certificates in various disciplines and streams. Well, that's not it as the college has recently been ranked amongst the Top 50 Research Colleges in Canada. Also, it has been honored as one of Canada's topmost innovation leaders. As it's a publicly funded university, the legislation includes some renowned people from the Ministry of Training, Colleges, and Universities.
Why Algonquin?
Algonquin College turns your ambition into reality. Those aren't just words. We anticipate future needs, connecting you with people who are changing communities, countries and the world of tomorrow.
Programs by area of interest
Apprenticeships
Art and design
Business
Computers and Technology
Community and Social Services
Environmental Science
Engineering & Architecture
Health Sciences
Hospitality, Tourism & Wellness
Language
Media and Communications
Public Safety and Legal Studies
Skilled Trades
Sports and Recreation
Transportation and Automotive