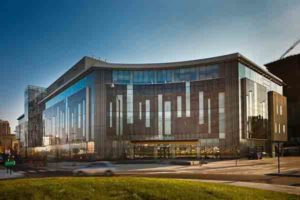 The Sheridan College and Institute of Technology and Advanced Learning was earlier been known with the name Sheridan College of Applied Arts and Technology and most famous as Sheridan College. Moreover, it comes as the most sought after diploma, certificate and degree-granting polytechnic institute in Ontario that has more than 23,000 full-time and 17,000 continuing education students within its facility. The college was established in the year 1967 and offers various programs and courses in animation and illustration, creative writing and publishing, music theatre, film and design, business, applied computing, engineering technology, community studies, and liberal studies. As of now, the college has its main campuses in Oakville, Brampton, and Mississauga.
In the year 2018, it was been stated by the officials that the Sheridan college will soon be opening a new campus in Brampton, Ontario in collaboration with Ryerson University. It was also been claimed that the campus will be situated in the south-east corner of Church Street West and Mill Street North in Brampton. Additionally, the new campus was said to be focusing on offering various programs in streams like science, technology, engineering, arts and mathematics (STEAM).
Why Sheridan?
In an economy based on innovation and change, leading CEOs agree that creativity is the top skill you can bring to the workplace. Whether you choose policing or programming, musical theatre or marketing, building a resourceful and flexible mind will help you excel in your career and inspire real change that benefits your life and community.
How to Apply
Step 1: Find your program
Sheridan offers more than 120 programs across five faculties.
Step 2: Check the admission requirements
Admission requirements are displayed on each program page to help you find the requirements specific to your program of choice. In addition to the minimum College Eligibility requirements, you may also have to satisfy program-specific admission requirements.
Step 3: Apply online and pay the application fee
Step 4: Submit your documentation
If you're currently enrolled in high school: Advise your guidance office that you're applying to college. They'll send your transcripts (a record of your grades) to ontariocolleges.ca.
If you're not currently in high school and are enrolled at another Canadian college or university, or you are in the workforce and have a postsecondary credential: You're responsible for sending official copies of your transcripts to ontariocolleges.ca.
If you're currently in high school in another Canadian province: You need to send one (1) official transcript to ontariocolleges.ca.
If you're out of high school: You need to arrange with your last high school to have one (1) official transcript sent to ontariocolleges.ca. Depending on where you went to high school, you may be able to request your transcript electronically through the transcript request service at ontariocolleges.ca. If not, contact your last high school directly.
If you've attended an Ontario college or university: Order your official transcripts through the transcript request service at ontariocolleges.ca.
If you attended a college or university outside Ontario, but still in Canada: You must request that the institution you attended send an official transcript to ontariocolleges.ca.
If you have attended any educational institution outside of Canada: You'll need to have your credentials assessed either by World Education Services (WES) or ICAS Canada. Once you've applied, ontariocolleges.ca will advise you of next steps via email. Credential evaluation fees will apply. For more information, and a complete list of Sheridan programs and the credential evaluation that is recommended or required.
Step 5: Accept your offer
Sheridan begins sending out offers of admission for the fall semester as early as Feb. 1 each year. Offers of admission to programs with additional admission requirements (e.g., portfolios, auditions, etc.) are issued starting later in March.
You can keep an eye on your application's status by logging with your Sheridan username and password.