Anglia Ruskin University (ARU) is a public university in East Anglia, United Kingdom. It has its origins in the Cambridge School of Art, founded by William John Beamont in 1858. It became a university in 1992 and was renamed after John Ruskin in 2005. It is one of the post-1992 universities.
Anglia Ruskin has 39,400 students worldwide and has campuses in Cambridge, Chelmsford, Peterborough and London. It also shares campuses with the College of West Anglia in King's Lynn, Wisbech and Cambridge and partnerships with universities from the around the world including Berlin, Budapest, Trinidad, Singapore and Kuala Lumpur. There are four faculties of study at the university: Faculty of Business and Law, Faculty of Arts, Humanities & Social Sciences, Faculty of Health, Education, Medicine & Social Care and Faculty of Science & Engineering. The university's Lord Ashcroft International Business School (LAIBS) in Cambridge and Chelmsford is one of the largest business schools in the East of England. In 2019, the School of Medicine was formally opened at its Chelmsford campus by Prince Edward, Duke of Kent.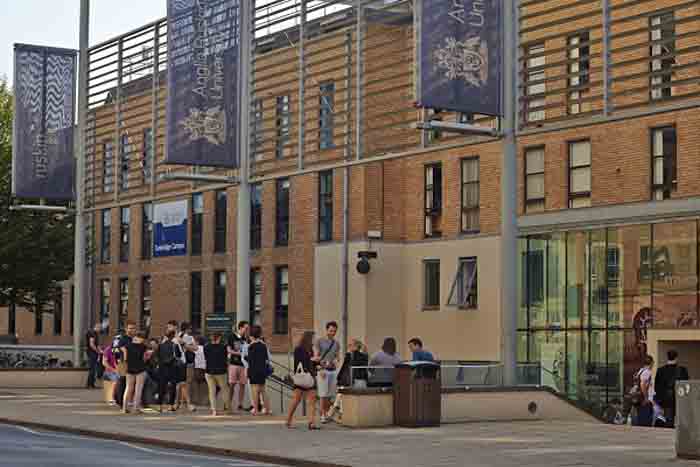 Programs by area of interest
Dentistry, Nursing and Pharmacy
Architecture, Built Environment and Planning
Art and Design: History, Practice and Theory
Business and Management Studies
Communication, Cultural and Media Studies, Library and Information Management
English Language and Literature
Geography, Environmental Studies and Archaeology
History
Law
Music, Drama, Dance and Performing Arts
Psychology, Psychiatry and Neuroscience
Social Work and Social Policy
Accommodation
Anglia Ruskin University – ARU has a wide variety of different accommodation options available in each of Cambridge, Chelmsford and Peterborough. Accommodation ranges from brand new en-suite rooms to traditional halls of residence, as well as shared houses and flats. All accommodation is located on or close to campus and within walking distance of the city centres.