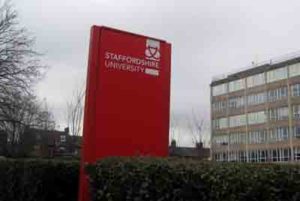 Staffordshire University is a government university offering various undergraduate, graduate, professional and distance learning programs. The university is divided into six academic departments, including computing and digital technologies, Staffordshire Business School and life sciences and education. In the year 1988, the institution changed its name to Staffordshire Polytechnic, and in 1992, it officially became Staffordshire University. The university raises funds to foster a better, safer and healthier society.
Course Available in Staffordshire University
Undergraduate Courses:
BA (Hons) Accounting and Finance
BSc (Hons) Health and Social Care
BSc (Hons) Operating Department Practice
BSc (Hons) Paramedic Science
BA (Hons) English Literature and Creative Writing
BA (Hons) Fine Arts
BA (Hons) Graphic Design
BA (Hons) Photography
BSc (Hons) Computer Science
BA (Hons) Business Management
Postgraduate Courses
MSc Accounting and Finance
MA Ceramic Design
MA Arts And Creative Design
Business Administrator (DBA)
Business Administration MBA
MSc Customer and Data Analytics
MSc Digital Marketing Management
MSc International Business Management
MSc Computer Science
MSc Computer Science (Cyber Security)
Entry Requirements
English language requirements
For study at degree level (for both undergraduate and postgraduate taught), the minimum entry requirements are:
IELTS – 6.0 overall score and a minimum of 5.5 in Reading, Writing, Speaking, and Listening.
TOEFL – 87 overall score and a minimum of 18 in Reading, 17 in Listening, 20 in Speaking, and 17 in Writing.
Pearson PTE Academic – 51 overall score and a minimum of 51 in Reading, Writing, Speaking, and Listening.
Trinity College London Integrated Skills in English – ISEII: 'Pass' in Reading, Writing, Speaking and Listening.