Dublin City University (DCU) has efficiently build its reputation as one of Ireland's best University of Enterprise, via  its strong and active connection with various academic, research and industry partners in local and global markets. Dublin City University has currently been ranked 19th across the globe and deemed as the topmost university in the country as well. The University is also been credited for pushing the graduate employment rate, as per the recent 2020 QS Graduate Employability Rankings.
This university boasts 5 campuses and offers more than 200 programs under its five streams mainly that are engineering and computing, business, science and health, humanities and social sciences, and education. Also, various recognized organizations such as the Association of MBAs and AACSB have given some higher recognition to this university.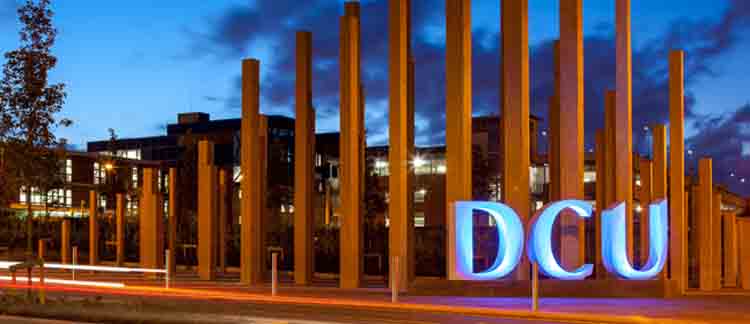 Accommodation
Students can get benefitted with the on-campus accommodations or can also opt for an Irish family as a host. All of the campuses are easily reachable and accessible and offer a wide range of student-friendly facilities like libraries, ATMs, pharmacy, mini-markets, theatre, and clubs. This university has got its establishment nearby the airport and is currently been connected with 19 different bus routes. Students are further been provided with a comprehensive range of sports facilities like fitness center, football field, swimming pool, and many more. There are also full-proof security services available for the students 24/7 to make them study in the most safe and secured environment.
Programs and Courses
MSc in Computing (with Major Options)
MSc in Digital Marketing
MSc in Finance
MSc in Management (Business)
MEng in Electronic and Computer Engineering
MEng in Mechanical and Manufacturing Engineering
MSc in Biomedical Diagnostics
MSc International Accounting and Business
MSc in Management (Strategy)
MSc in Bioprocess Engineering
Bachelor of Science (Hons) in Computer Applications
MSc in Human Resource Management
Bachelor of Science (Hons) in Enterprise Computing
MSc in Financial Mathematics
MSc in Accounting
MA in International Development, Environment and Conflict
MA in Journalism
MA in International Relations
Bachelor of Business Studies (Hons)
Bachelor of Science (Hons) in Data Science
MSc in Public Relations and Strategic Communications
MSc in Management (Aviation Leadership)