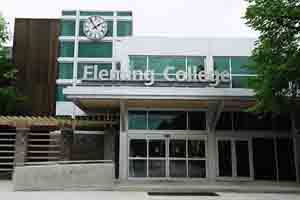 Fleming College, also famous as the Sir Sanford Fleming College, was established in the year 1967. It comes over as an open institute that has been named after  Sanford Fleming, one of the most famous engineer and inventor. Talking about its contributions, he earned some big name in the field of Universal Standard Time. The institute is affiliated to the  Canadian Collegiate Athlete Association, ACCC, and Peterborough Centennial Museum & Archives. The institute first launched the College of Applied Arts and Technology in 1965 and it is further governed and managed by the executive staff and a Board of Governors. Fleming College is further known to be in partnership with Trent University.
The institute accommodates four campuses, that are Sutherland campus, Cobourg campus, Haliburton campus, and the Frost campus. Sutherland campus comes over as the main campus that is located in Canada. If we look at the housing facilities, the same got kick started in the year 2002 and in 2003, when a  technology wing was been introduced by the college authorities. The Campus majorly accommodates sports facilities and artificial turf fields. Moreover, the campus is also home to highly recognized Kawartha Trade and Technology Centre. The same was initiated in 2014.The students hereby need not to go anywhere else as they are been provided by all the right facilities and amenities within the only.
You can easily find restaurants, cafes, departmental stores, and chemist shops around and won't be coming with any inconvenience whatsoever. The public transport is also easily accessible to everyone within the institute Speaking of the infrastructure of the campus , that is highly -maintained and further manages by the concerned authorities of the institution. After the year 2000, the institute took decisions to extend its outreach area due to the increased number of enrollments.
Programs and courses offered
Graduate Certificate in Global Business Management
Graduate Certificate in Wireless Information Networking
Graduate Certificate in Project Management
Advanced Diploma in Biotechnology
Graduate Certificate in International Business Management
Diploma in Hospitality Management
Diploma in Practical Nursing
Diploma in Instrumentation and Control Engineering Technician
Advanced Diploma in Computer Security and Investigations
Advanced Diploma in Business Administration
Diploma in Business Administration – Human Resources Management
Diploma in Business Administration-Marketing
Diploma in Electrical Engineering Technician
Advanced Diploma in Computer Engineering Technology
Certificate in Electrical Techniques
Advanced Diploma in Graphic Design – Visual Communication
Graduate Certificate in Geographic Information Systems-Application