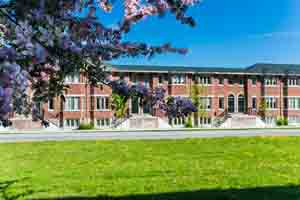 Loyalist College derived its name from the famous United Empire Loyalists and justify its name with the areas where it has been established in 1967 at Belleville, in Ontario, Canada. This comes over as a public college that was been founded in order to enhance the quantity and quality of the number of institutions available in Ontario, that are rendering career-oriented courses to all the local and international students coming to the country.
The college surprisingly functioned within a  local school during the initial phases and was been known officially as the Loyalist College of Applied Arts and Technology. The current facility of the 200-acre campus of the college is situated on the Wallbridge-Loyalist Road that is in use since the year 1968. Loyalist College got another campus-based in Bancroft, Ontario that is facilitated with all the state-of-the-art labs, classrooms and workshops within its vicinity. The College also accommodates a Bay of Quinte Skills Centre, Digital Media Center, Student Access Labs, Student Spaces, Health Centre, Spa, Library, Bioscience Labs, Renovated Northumberland Wing, Student Centre, Fitness Centre, Dining Hall, Campus Bookstore and Conference Facilities.
On campus accommodation
The Loyalist College brings along an on-campus accommodation in collaboration with the Loyalist College Residence
The Residences are further been segregated into two separate sections: the apartment style Residence and the upper-year townhouse style Residence
The apartment style Residence comprises of five buildings that accommodates more than 476 students
The townhouse style Residence comes along with four buildings that also accommodates 104 students and specifically been available for all the upper year students
Each of the unit within there accommodates 4 students
Various courses and programs offered
The Loyalist College offers 77 programs in applied arts and technology. There are numerous programs available for local and International students that are– diplomas, advanced diplomas, postgraduate programs, continuing education, apprenticeships, and college access programs.
The areas of studies include –
Business and Management studies
Health and Human Studies
Justice Studies
Media, Art and Design
Building Sciences
Skilled Trades
Biosciences
Apart from the ones mentioned above, the college offers:
College Access Programs that are specifically meant for those who would like to obtain a secondary school equivalency (grade 12) to further carry through their postsecondary programs.
Apprenticeship programs which are offered in four specific areas and further include a blend of classroom instruction and practical training.
Justice Studies diploma which is specially meant for students that are seeking careers in police, customs and border services, justice services and security.
Skilled Trades Programs is for those students who are looking  to join the labour market in areas such as welding, manufacturing, engineering technician, etc.