Georgian College was been established in the year 1967 during the emergence of the College System of Ontario. Well, it must also be mentioned that around twelve of its co-op education programs have recently been accredited by the Canadian Association for Co-operative Education (CAFCE). On the other side, three of its health programs have been accredited with a higher rating by the respective authorities.
One of the other achievements that have been secured by the college is a score of 99% that has been given to them by the Canadian Massage Therapy Council for the college's massage therapy program. Canada's Public Health Agency further accredited its Veterinary Assistant and Veterinary Technician programs  and that can also be quoted as a credible achievement. Well, the Canadian Council on Animal Care (CCAC) has also honored the college with the CCAC Certification of Good Animal Practice (GAP).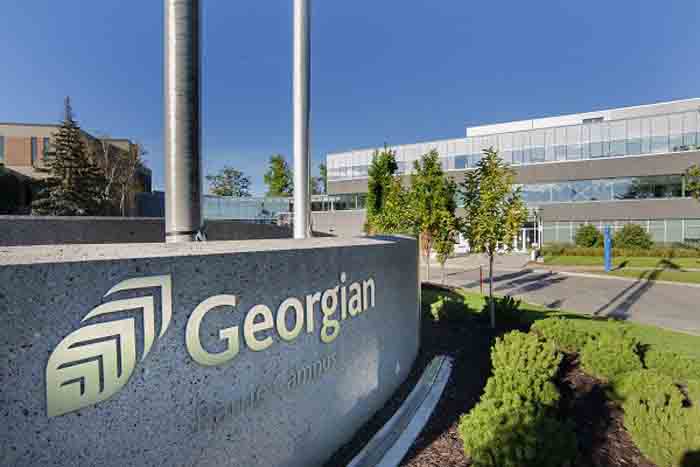 Campus details
Georgian College offers more than 130 industry-based programs in various education streams like automotive business, community safety, management, computer studies, health, design, visual arts, engineering, sciences, environmental technologies, hospitality, human services, tourism, liberal arts, indigenous studies, skilled trades, and marine studies. The college accommodates over 13,000 students, which includes around 3,600 foreign students coming from 85 countries around the world. The college comes with an average class strength of 26 students and further grants scholarships and bursaries of over $2.5 million on a yearly basis. The College also have a high graduate employment rate along with a track record of 90.3% of graduates getting placements within six months of graduation within the academic session of 2017-18.
Program and Courses offered
Diploma in Hospitality – Hotel and Resort Operations Management
Diploma in Biotechnology – Health
Graduate Certificate in Global Business Management
Advanced Diploma in Aviation Management
Diploma in Computer Systems Technician – Networking
Advanced Diploma in Power Engineering Technology
Diploma in Business – Marketing
Diploma in Computer Programmer
Advanced Diploma in Computer Programmer Analyst
Advance Diploma in Mechanical Engineering Technology
Graduate Certificate in Project Management
Graduate Certificate in Information Systems Security
Diploma in Business – Accounting
Diploma in Digital Photography and Imaging
Diploma in Automotive Business
Graduate Certificate in Human Resources Management
Diploma in Business with Co-op
Honours Bachelor of Business Administration (Automotive Management)
Honours Bachelor of Business Administration (Management and Leadership)
Advanced Diploma in Business Administration
Graduate Certificate in Marine Engineering Management
Diploma in Business – Entrepreneurship
Advanced Diploma in Business Administration – Human Resources
Diploma in Interactive Media Design – Web
Graduate Certificate in Mobile Application Development
Graduate Certificate in Research Analyst
Graduate Certificate in Public Relations – Corporate Communications
Diploma in Architectural Technician
Diploma in Hospitality Administration – Hotel and Resort
Diploma in Graphic Design Production
Diploma in Business
Diploma in Tourism – Marketing and Product Development
Diploma in Business – Entrepreneurship with Co-op
Advanced Diploma in Business Administration – Accounting
Advanced Diploma in Architectural Technology
Diploma in Sport Administration
Diploma in Electrical Engineering Technology
Graduate Certificate in Communications and Professional Writing