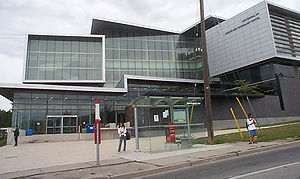 Centennial College of Applied Arts and Technology can be deemed as one of the best diploma and degree-granting colleges located in the city of Toronto, Ontario, Canada. It comes over as one of the oldest publicly funded colleges based in Ontario. Talking about its campuses, same are mainly located around the east side of the city, specifically in Scarborough, even though its latest aerospace center is located at Downsview Park in North York.
The college is administered by the Ministry of Training, Colleges and Universities Act. Centennial College is often been considered as one of the most culturally diverse post-secondary institutions based in Ontario. It must be mentioned that more than 100 ethnocultural groups are represented and more than 80 languages are being spoken within the campus. In the year 2016, Centennial holds its place amongst Canada's Top 10 Research Colleges for the very first time in history. Speaking of its main research facilities, they are highly been deemed as Wearable, Interactive and Mobile Technologies Access Centre in Healthcare (WIMTACH), which was been launched in the year 2015 via a $1.75 million federal grant.
The college offers programs to the entire local and the international students under the following schedules
Full time, schools apprenticeship, part-time, college and university preparation
Co-op education, degree programs, fast track, dual credit, graduate certificate programs
Joint programs, Bring-IT programs second career programs,
Canada-Ontario job grant programs, online programs
Online programs offered by Centennial College of Applied Arts and Technology facilitate the students with education and experience grabbed in Canada or any other country. Centennial online program works with common goals like personal development, professional and business progress. Moreover, all of the online programs are carried upon by the instructors that can be contacted as per the time and convenience of the students.
Centennial also offers 24-hour access to all of its online teaching facilities for the given online courses. It further creates a connection within the industry via a unique Solv model. Solv facilitates businesses of all shapes and sizes, and from all sectors to further connect with the college via a single point of contact.