New York Institute of Technology (NYIT) is a private research university with two main campuses in New York, one in Old Westbury and one in Manhattan. Additionally, it has a cybersecurity research lab and a biosciences, bioengineering lab in Old Westbury, New York, as well as campuses in Arkansas, United Arab Emirates, China and Canada.
NYIT has five schools and two colleges, all with an emphasis on technology and applied scientific research: School of Architecture and Design, School of Interdisciplinary Studies and Education, School of Engineering and Computing Sciences, School of Health Professions, School of Management, College of Arts and Sciences and College of Osteopathic Medicine.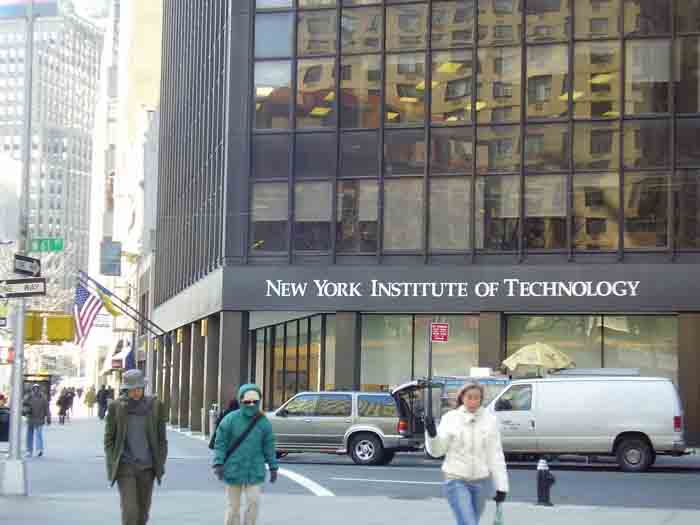 Student Life
It's not all about academics at New York Tech. Students can choose to be part of a rich campus life by being student leaders, volunteers or interns and participate in conferences and club activities. There is scope for extracurricular activity across multiple areas of interest such as the arts, entertainment, politics, public service, business and much more. Having a well-rounded extracurricular life also helps students learn a lot about the local culture.
New York Tech's community service centers help students get involved as volunteers on behalf of community agencies, or as coordinators and the liaison person between New York Tech, clubs and off-campus organizations. On-campus roles, especially after the student's first year, could be those of peer advisors, student tutors or orientation leaders.
There are also plenty of recreational options for students around and beyond campus. From live performance venues such as Carnegie Hall and the Lincoln Center for the Performing Arts to a number of museums and galleries, everything is within a 15-minute walk from the campus. Those who prefer relaxed public spaces can head to the famous Central Park which is less than a five-minute walk, or choose from the other options that surround the area. Shopping and dining are also adequately catered for, with a whole range of options within walking distance of campus.
Programs
New York Institute of Technology ranks among the top third of accredited engineering programs listed by U.S. News & World Report and its M.S. programs in Computer Science and Computer Engineering are among TFE Times' Best Programs. Academic coursework incorporates applied research, internships, and real-world case studies to deliver professional educational experiences. Students learn from professors who are recipients of prestigious grants and bring decades of industry knowledge and research into the classroom. Students can be found working side by side faculty, researching cybersecurity, the blockchain, nanotechnology, medical devices, bioengineering, IT, data science, sustainable energy, robotics, artificial intelligence, fluid dynamics, app development, and other areas in the college's high-tech facilities and labs.
Electrical and Computer Engineering, M.S.
Bioengineering, M.S.
Mechanical Engineering, M.S.
Computer Science, M.S.
Information, Network, and Computer Security, M.S.
Data Science, M.S.