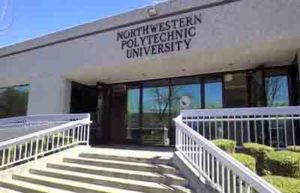 Northwestern Polytechnic University (NPU) is an independent and private University in Fremont California. NPU's Bachelor's, Master's and Doctoral Degree programmes are designed to prepare students for the practice of engineering, computer science and business administration at a professional level. In addition to courses teaching the fundamentals, each degree's curriculum is designed to be connected to Silicon Valley's major industries in electronics, computer engineering, information technology, enterprise management and global business development. Students can avail of work, research and internship opportunities on campus.
Why you must choose
The University is first and foremost an institution of learning and teaching, committed to serving the needs of society and involved in the academic and civic communities
NPU attends local job fairs and works with local businesses to provide job opportunities for our students
This institution is provisionally approved by the Bureau for Private Postsecondary Education to offer degree programs
Accommodation
The College offers two types of dorm room. The classic dorm room offers single, 2-shared, and 6-shared. The coop. units offer single and 2-shared. Space is limited; availability is on first-come-first-served basis. Student will be informed if students are on the waiting list. Room reservation is effective only after the deposit and rent have been received by the University.
Programs and courses offered
Business Administration and Management, General
Computer Engineering, General
Computer Software Engineering
Electrical and Electronics Engineering