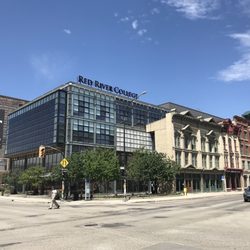 Red River College (RRC)  has enlisted itself to the category of one of the best colleges in the country and it is located in Winnipeg, Manitoba, Canada. It is highly been deemed as the largest institute of applied learning and applied research within the province with more than 200 degrees, diploma and certificate programs while attracting more than 21,000 students on an annual basis. The college currently holds a 94% graduate employment rate and a 96% graduate satisfaction rate and that certainly speaks volumes of its astounding success over the years. More than 6,000 and 8,000 students attend the college on a daily basis along with the ones registered in various continuing and distance education programs.
Red River College attracts more than 1500 international students coming from  60 countries on a yearly basis. If we speak of their various programs, they currently carrying upon around 200 full-time programs various streams like biotechnology, construction trades, digital multimedia, business, aerospace, nursing, engineering technology, and so on.
Study at RRC
Red River College provides a wide range of study options for international students, offering over 50 full-time programs.
List of Programs
Areas of Interest
Intensive English
Business
Community Services
Computer and Information Systems Technology
Creative Arts
Engineering and CAD Technology
Health Sciences
Hospitality
Indigenous Education
Skilled Trades
Transportation Technology
Intensive English
Are you new to Canada and want to improve your English? Their Intensive English for International Students program can help you get the education and training you need to prepare yourself for success in the academic and professional environments.