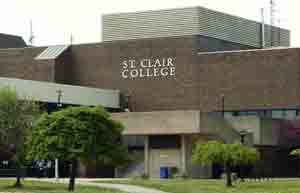 St. Clair College of Applied arts and technology college was founded in the year  1966 in Ontario, Canada. The college has its main campuses located around the area of  Essex and Chatham-Kent counties of Ontario. It must also be mentioned that the college is a subsidiary of the famous  Western Ontario Institute of Technology. Western Ontario Institute of Technology and the Colleges of Applied Arts and Technology agreed to merge in order to form St. Clair College of Applied arts and technology. Speaking of the courses, the college offers the best quality education and training in the forms of various diplomas and certificates courses related to various subjects within the arts and technology.
The campus of the college is further been spread around to various parts of southern Ontario. If we talk about their biggest campus,the same is located in Windsor, Ontario. It's not about that and there are other sites which are located in areas like Chatham and Wallaceburg. The college administration is also thinking of spreading its campus by buying more and more land since the year 2009.
It has also built a sports complex called SportsPlex a few years back in 2014 and given to all the big expansion it is offering to its campus area, the college is contributing big time to the progress and development of the state of Ontario.
Course available at St. Clair College
Graduate Certificate in Human Resources Management: Duration 1 Years
Diploma in Hospitality – Hotel & Restaurant: Duration 2 Years
Graduate Certificate in International Business Management: Duration 1 Years
Advanced Diploma in Computer Systems Technology – Networking: Duration 3 Years
Diploma in Business – Accounting: Duration 2 Years
Diploma in Construction Engineering Technician: Duration 2 Years
Diploma in Journalism: Duration 2 Years
Advanced Diploma in Business Administration – Marketing: Duration 3 Years
Diploma in Electrical Engineering Technician: Duration 2 Years
Diploma in Mechanical Engineering Technician – Industrial: Duration 2 Years
Advanced Diploma in Internet Applications and Web Development: Duration 3 Years
Advanced Diploma in Business Administration – Finance: Duration 3 Years
Advanced Diploma in graphic design: Duration 3 Years
Advanced Diploma in Civil Engineering Technology: Duration 3 Years
Adv. Diploma in Mechanical Engineering Technology – Automotive Product Design: Duration 3 Years
Diploma in Electromechanical Engineering Technician – Robotics: Duration 2 Years
Adv. Diploma in Electronics Engineering Technology – Industrial Automation: Duration 3 Years
Advanced Diploma in Animation Program – 2D/3D: Duration 3 Years
Advanced Diploma in Architectural Technology: Duration 3 Years