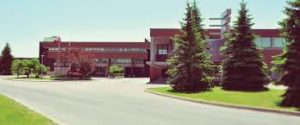 Cambrian College is highly famous as a college of applied arts and technology located in the Greater Sudbury, Ontario, Canada. Founded in the year 1967, and financed by the province of Ontario, Cambrian, the colleges has its campuses spread to  Sudbury, Espanola and Little Current.
Cambrian is well recognized to be working along with the  various school boards, training institutes, universities, and other institutions  within the locality and globally as well, to further offer higher education and related opportunities to all the respective students within their premises
Cambrian highly commits with its contribution to the surrounding communities and the same can be witnessed by the  Wabnode Institute, the college's center for the advancement of First Nations education along with its credibility in providing high-quality education and training to people with certain disabilities.
Graduate Certificate programs
Business and Information Technology
Community Services
Health Sciences
Law and Justice
Safety and Environmental Studies
Cambrian College offers many services and programs to help make your time on campus the ultimate student experience.
Computer labs and WiFi
Cambrian College offers computing facilities for both academic and administrative activities, including over 30 teaching computer labs, plus open access labs and free WiFi.
Accessibility services
Cambrian College is dedicated to serving and being open, accessible, and provide the best for every student. Cambrian offer top-of-the-line services and programming for those with disabilities and suspected disabilities through the Glenn Crombie Centre.
Scholarships and bursaries
A diverse range of awards are available to assist students with paying for college, and Cambrian encourages all students to take the time to apply.
Print Shop
If you need it laminated, bound, a booklet, or anything printed, you've come to the right place.
Lockers
Need a place to stash your books, coat, or bag? Cambrian College has lockers, but there's a few rules in place you'll need to know before you lock up your gear.
Parking
At Cambrian College, there are a lot of parking options. Pay by the day, week, month, or the whole year. Avoid getting a ticket and sign up today.
Professional Clothing Depot
Need a professional outfit for your first job interview? Or maybe you need some scrubs for your placement? Cambrian College can help!
Safety and Security
At Cambrian, There campus is a safe and secure place for every student, staff member and visitor. Cambrian have several programs in place that ensures an environment free from harassment, crime, violence, and vandalism.