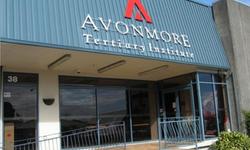 Avonmore Tertiary Institute is a tertiary education provider with campuses around New Zealand. Since 1988 Avonmore has grown and transitioned into one of New Zealand's top Private Tertiary Education Providers offering a range of high quality hands-on courses that get students jobs. At Avonmore we're all about small classes with hands-on learning, modern facilities and tutors who care about getting you a quality education that sets you up for whichever industry suits you best. The end goal is to always get our students completed and into work or further education. Students are number one at Avonmore and we have been honoured to accept both the 2006 and 2013 Private Tertiary Education Provider of the Year which is selected by the New Zealand Association of Private Education Providers.
Courses Offered by Avonmore Tertiary Institute
Business Management (Level 5 and Level 6)
Graduate Diploma in Business (Level 7)
Hospitality Management (Level 5)
Tourism Management (Level 5)
Computer Network Engineering – Level 5 & 6
Computer Network Engineering – Level 6 & 7
Computer Network Engineering – Level 7
Admission Process 
IELTS: 5.5(required)
Apply online application.
Wait for the response from College.
Apply for the student visa.