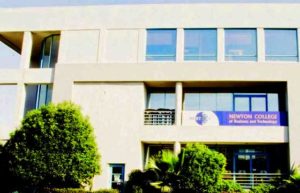 NCBT(Newton College of Business and Technology) is an NZQA accredited Provider, based in Auckland. New Zealand. NCBT is registered with New Zealand Qualifications Authority (NZQA) since 1995 and since inception has focused on providing quality education with a strong emphasis on Pastoral Care to our international students. NCBT offers undergraduate and graduate level programmes from Level 5 to Level 7 in Computing and Business studies We are one of the first providers to focus solely on and enroll international students from the Indian sub-continent.
Why NCBT?
Accreditation: The college is an accredited Private Training Provider of national qualifications from the New Zealand Qualification Framework.
Graduate Outcome: The college has a very positive graduate outcome with students either settling with permanent residency or on long work permits.
Pathway programs: NCBT has also introduced pathway programs to Unitec Institute of Technology, which is a leading polytechnic.
International Students: NCBT provides a favorable environment to the international students to adjust in the foreign land.
Programs and Courses offered
Diploma in Advanced International Business (Applied Exporting & Importing) (Level 7)
Diploma in Applied Business with specialisation in Production Systems and Design or Marketing (Level 7)
Diploma in Computer – Networking and Security (Level 6)
Diploma in Computer – Networking and Security (Level 7)
Diploma in Computing (Networks and Security) (Level 7)
Diploma in Film and Television – Production (Level 5)
New Zealand Diploma in Business with strands (Accounting, Administration & Technology, Management & Leadership) (Level 5)
New Zealand Diploma in Business with strands (Accounting, Administration & Technology, Management & Leadership) (Level 6)
New Zealand Diploma in Information Technology Technical Support (Level 5)
New Zealand Diploma In Systems Administration (Level 6)