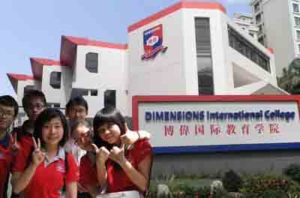 Dimensions International College is a leading institution of higher education in Singapore. It was formerly known as Dimensions Commercial School. It has EduTrust Certification from the Committee for Private Education valid until 2020. The institution has academic partnerships with the University of Hertfordshire and Cardiff Metropolitan University. It is accredited by the Accreditation Service for International Schools, Colleges and Universities. All the educational programs are approved by the Scottish Qualifications Authority, WSQ Approved Training Organisation, Business and Technology Education Council and Pearson Edexcel.
Dimensions International College has three campuses in Singapore spread over a total area of 7.62 acres, which are regarded as the Main Campus, City Campus, and Bukit Timah Campus. Each campus features state-of-the-art buildings, pathways, parking areas, and green spaces. Learning at the institution takes place in 117 smart classrooms of varying sizes and seating capacity. The other academic facilities across all the campuses include two high-tech laboratories, two computer rooms, and three training facilities equipped with modern technology and equipment.
Why you must choose
Awards and Recognitions: The various awards and certifications conferred to the college is the proof of the college's success in providing quality education to the international students.
Expert faculty: The College has a large faculty of full-time and part-time lecturers. All its lecturers are approved by the Academic Board and registered with CPE and possess the required qualifications with 5 years of experience or higher level of qualifications.
Diverse Cultural mix: As the college has an international mix of students, they can experience a diverse cultural mix and share their different studying methods to give a multi-approach to learning.
Academic Board and an Examination Board: DIMENSIONS has installed an Academic Board and an Examination Board to ensure the quality and standards of its academic processes.
Overseas offices: The College has its overseas offices in Asian countries like China, India, Vietnam, Korea and Malaysia and provides a closer and personal touch to potential international students who wish to study at the college.
Programs and Courses offered
Master Degree
Master of Business Administration (General) (12 months)
Master of Business Administration (Finance) – (12 months)
Master of Business Administration (Marketing) (12 months)
Master of Business Administration (Human Resources) (12 months)
Master of Business Administration (Project Management) (12 months)
Master of Business Administration (Product Development Management) (12 months)
Master of Science in Biomedical Science (Medical Biochemistry) (12 months)
Master of Science in Biomedical Science (Cellular and Molecular Pathology) (12 months)
Master of Science in International Hospitality and Tourism Management (12 months)
Post Graduate Diploma:
Postgraduate Diploma in Management (03 months)
Postgraduate Diploma in Professional Hospitality Management (06 months Institutional Training + 06 Months Paid Internship)
Bachelor Degree:
Bachelor of Arts (Hons) in Business Administration -Top-up Degree (12 months)
Bachelor of Science with (Hons) in Biomedical Science (36 months)
Bachelor of Arts with (Hons) in International Hospitality & Events Management – (36 months)
Bachelor of Arts with (Hons) in International Hospitality Management- (36 months)
Bachelor of Science with (Hons) in Psychology – Final Year (36 months)