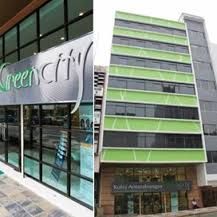 Greencity International College comes as one of the leading private green college based in Malaysia, that was been founded in the year 2005 under the Private University Act. The College was been established with an aim to create and develop global higher education center of excellence. Every year around, Greencity International College Malaysia attracts students from all walks of life and parts of the world and further provide them with an affordable, individualized education that highly matches with the existing global standards.
Programs and courses 
Diploma in Green building
The course comes with the sole motive of building professionals that are highly competent in progressing and transforming high end building designs and construction while keeping the environment in mind.
Graduates will be facilitated with the major values of professionalism, knowledge and skills to serve perfectly to the high end market demands coming in the streams of architecture and engineering. The given course highly emphasizes on the green building delivery and life cycle that further accommodate aspects like strategic planning needs analysis, design review and post-occupancy evaluation.
Once the students are done with the course, they will be able to:
Induct the new energy management standard as per ISO 50001
Deliver technical knowledge and skills in highly sustainable Building Services
Streamline the understanding of concepts like building design, implementation, operation and commissioning
Grasp the principles and the usages of renewable energy sources
Understand and communicate the basic fundamental concepts of sustainable design and green building practices
DIPLOMA IN GREEN TECHNOLOGY MANAGEMENT
This programme is rightly designed to train and  educate the students about  green technology and environmental industries, to further develop and transform their versatality. This is where they get to learn through the various aspects of Green technology management via an  oriented course structure. Moroever, they get future ready to tackle through the needs of a greener energy markets across the globe.
Graduates coming with this diploma would further been facilitated with job opportunities in the fields of business organization to the environmental and green energy industries.
WHAT TO EXPECT
Once been through the course, the students will be able to:
Devise strategic solutions to empower decision-making while addressing sustainability issues
recognize the relevance of management information system in achieving sustainability
capture Information System to environmental and economic problems
Examine empirical data to further understand energy choices designed by policy makers
Classify management of organizational so that the objectives achieved