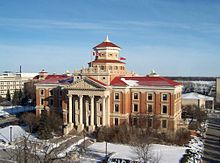 The University of Manitoba comes over as a public research university that is based in the province of Manitoba, Canada. The main campus of this university is based in the Fort Garry neighborhood of southern Winnipeg while the other ones ate spread around various parts of the city. Established in the year 1877, it has proved its prowess as the first university in western Canada to deliver high-quality education and training courses to all the local and international students around.
 The university holds a big reputation as a top research-intensive post-secondary educational institution and carries out more research programs on a yearly basis than any other available university within the region.
Masters Programs offered at University of Manitoba
Medicine & Health (20 courses)
Natural Sciences & Mathematics (14 courses)
Social Sciences (10 courses)
Arts, Design & Architecture (6 courses)
Engineering & Technology (5 courses)
Environmental Studies & Earth Sciences (5 courses)
Humanities (5 courses)
Business & Management (4 courses)
Agriculture & Forestry (3 courses)
Applied Sciences & Professions (2 courses)
Education & Training (2 courses)
Law (2 courses)
Computer Science & IT (1 courses)
Hospitality, Leisure & Sports (1 courses)
 Career services offered by University of Manitoba
Career Services offered by University of Manitoba assists all of the undergraduate and graduate students with an opportunity to plan their career and job search aspirations. Alumni are further eligible for receiving all the required support and assistance for up to 6 months once they finish up their graduation. So, no matter whether you are not sure about your career direction or finding a way through it, the counselors of the university are there to help.
The University inspires their students to get along with their career planning as early as possible right within their course period. This is been done in order to let them take the big benefit of all the experiences carried by the faculties, that can further help them to build on the knowledge, skills and expertise which would then lead them to a world of wonderful possibilities.