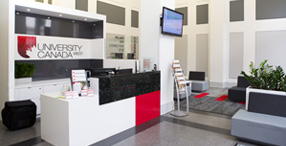 University Canada West (UCW) comes as a private, for-profit, University based in British Columbia, Canada. The University was been founded in the year 2005 by David F. Strong, who is the former president of the University of Victoria. UCW was been bought in  2008 by the famous Eminata Group and in 2014 the same has been then sold to the Global University Systems, which are also its present owners.
While being located in downtown Vancouver, the university delivers some high-quality education and undergraduate and post-graduate programs in business and management to every student around.
Details for off-campus accommodation
Average rent within this location ranges between CAD 650 to CAD 850 in terms of shared rooms
The same accommodation would include home stays and apartment
The accommodation would include all the basic facilities like Wifi, laundry services, electricity etc
Students can opt from a wide range of furnished and semi furnished accommodation options.
Students may need to sign a 6 months lease agreement for few apartments
Why you must choose UCW
While studying in a dynamic learning environment, students are been provided with a chance to learn at the most competitive tuition fees. UCW also posses the right facility and vicinity that is certainly an example for all the other Canadian universities, as it  accommodates both domestic and international students, while providing them with the best learning atmosphere in order to prepare them for the future.
UCW also focuses towards creating a challenging environment that contributes big time in letting the students become future leaders of the business world. It also allow its students to go through a practical understanding of all the required business and supportive acts while also developing their hands-on expertise. Moreover, the faculty within the premises is also skilled and passionate enough to guide the students towards their specific future goals.
Programs available
Undergraduate Faculties/Departments and Programs
Undergraduate
Associate of Arts
Bachelor of Arts in Business Communication
Bachelor of Commerce
University Access Program
Postgraduate Faculties/Departments and Programs
Graduate
Master of Business Administration
MBA Foundation