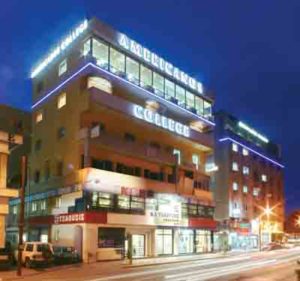 American College is situated nearby Nicosia, which is also the capital of Cyprus, an island state located around the beautiful crossroads of Europe, Asia, and Africa. Established in the year  1975, the College comes as one of the oldest and most sought after higher education institutions based in Cyprus.
American College has got its registration with the Cyprus Ministry of Education and Culture and it further offers a big array of various accredited programs and courses to a big number of local and international students coming from all parts of the world. The programs are based according to the highly regarded American and European higher education standards and the same comes with national and international recognition in every aspect. This is where the American college witnesses almost 15000 students from almost every part of the globe on a yearly basis.
Why Choose American College
American College is highly recognized for its transfer options to many prestigious American, British, Canadian, Australian and European Universities. The College comes with some highly established international links and almost every university welcomes students coming from American College students on a credit/year for credit/year basis.
Students get to study in a college that is coming along with competitive fees with a privilege of studying in a country with reasonable living expenses compared to other European countries.
Students are provided with all the required personal attention and guidance on course of their curriculum .They are further been provided with a homely atmosphere.
Best faculties and teachers to deliver high quality education
Crime free country with some of the most serene surroundings
Students are provided with best facilities in terms of laboratories, computer centers and other aspects.
Programs offered at American college
UNDERGRADUATE PROGRAMS
Culinary Arts(Higher Diploma – Bachelor)
Hotel Management(Diploma – Bachelor)
Computer Network Technician(Diploma)
Computerized Accounting(Diploma)
Computer Science(Diploma)
Business Administration(Diploma – Bachelor)
Marketing(Diploma)
Office Management(Certificate – Diploma)
Travel & Tourism Management(Diploma – Bachelor)
Information Systems Management(Diploma)
Post graduate Programs
Master in Business Administration(MBA)
Distance Learning(Master in Business Administration (MBA)